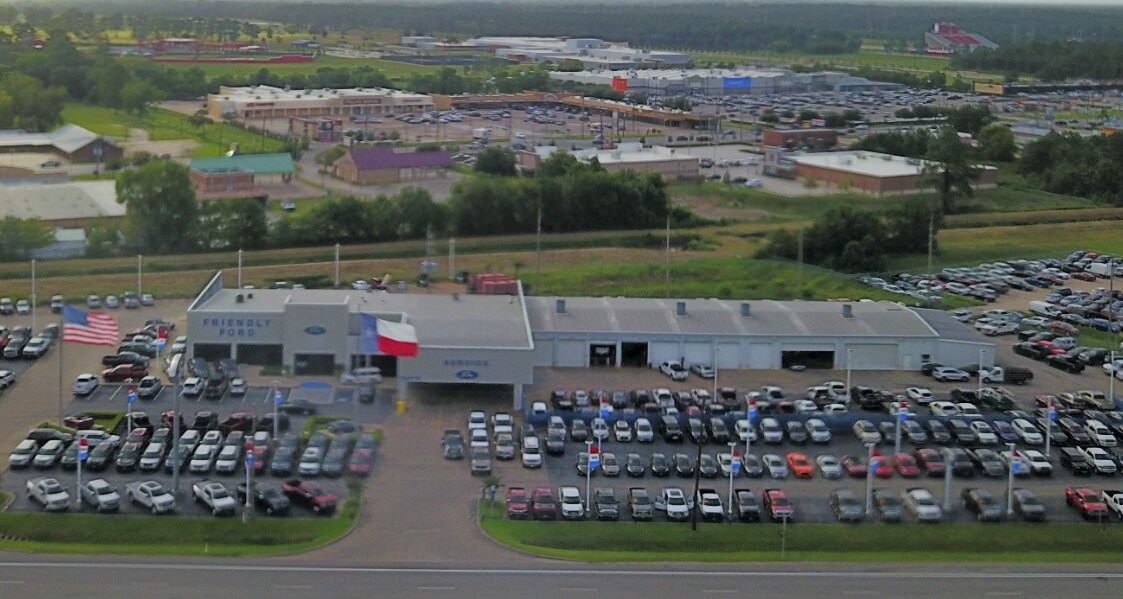 Friendly Ford of Crosby
Owner's Commitment Fred J. Salinas, owner and operator of Friendly Ford of Crosby, had dreams over 30 years ago to own and operate a dealership under one core value "Driven to Satisfy You". His Beliefs and core values were shaped as a young man growing up and working hard in Garden City, Kansas. As one of four boys in the family, the father owned a lawn service so the boys worked to help support the family and were taught at a young age the value of an honest day's work along with other values such as respect, integrity, and determination. Two years after graduating from high school Mr. Salinas enlisted in the United States Marine Corps. The Marine Corps helped reinforce the values of discipline instilled by his parents. Mr. Salinas was a military court reporter and served with the 2nd Marine Division, in Camp Lejeune, North Carolina. He was discharged in 1974 as an E-4 or Corporal and then served in a reserve unit in Kansas City, Missouri while attending the University of Kansas. He takes great pride in his military background and one of his sons also followed his path and was recently discharged as a Captain in the United States Marine Corps.
Upon graduating from the University of Kansas in 1979, Mr. Salinas began his automotive career being hired by the Lincoln Mercury Division, Ford Motor Company at their district office in Dallas, Texas. He worked as a trainee and Zone Manager in the district office learning all aspects of sales and marketing. He also worked for Chrysler Corporation in several different management positions before resigning and joining the retail business with Middlekauff Ford in Plano, Texas. While employed there he was accepted into Ford Motor Company's Dealer Training Program. He completed this program and was given his first opportunity at Skyline Ford Sales, Inc in Dallas, Texas. His dreams were becoming reality in June of 1996 when the new dealership was opened, he was named President and General Manager under Ford Motor Company's Dealer Development Program. Skyline Ford took off like a rocket and out-paced Ford's expectations and Mr. Salinas and his partners did one of the quickest buy-outs in Ford's history. The partnership paid off the investment in 30 short months, as Skyline Ford won the prestigious and highly coveted "President's Award" in 1999 and again in 2001 from Ford Motor Company for customer satisfaction. An achievement attained by only a small percent of all Ford Dealers.
In November of 2002, Mr. Salinas purchased Friendly Ford of Crosby located in Crosby, Texas. His reason for selecting a dealership in Crosby was because of the community commitment to hard work, a quality he noted was very similar to the town he was raised in. "The Houston Metro Area is one of the most economically sound environments in the country and this is another reason why I chose this particular store. East Harris County is covered with Petro Chemical Plants and Refineries so I knew the area has a strong economic base." Our goal at Friendly Ford is to give our customers the best quality service in this sector of Houston Metropolitan area. Ford Motor has quality products and is riding a strong wave of good publicity for not partaking in the US Government Bailout Funds made in 2009 to the other 2 domestic manufacturers. Ford ranks best in class in many segments it competes in, and they are continuously improving their product. "I am very proud to be a Ford Motor Company Dealer". We offer these fine Ford products here at Friendly Ford of Crosby: Fiesta, Focus, Fusion, Mustang, Taurus, Explorer, Edge, Shelby Cobra Mustangs, the F-150 Raptor, and Ford Pick-Ups from the F-150 to F-350 single wheels and duallys, and don't forget to browse our Ford Certified Pre-Owned Inventory and our other quality-checked pre-owned vehicles. "So check out the website before coming by and seeing our recent renovation and state of the art facilities. You will not be disappointed in the experience here at Friendly Ford of Crosby. This is why I use the slogan "Driven to Satisfy You" 
From New and Used Sales to Parts and Service, Friendly Ford of Crosby Aims to Provide a Truly Stellar Automotive Experience
There are numerous reasons why drivers choose Friendly Ford of Crosby. Proudly serving Crosby, Houston, Cleveland, Humble and Baytown, our teams of sales advisors, service technicians and financing experts are trained with one focus in mind: addressing each of your needs with the utmost respect, care and attention to detail.
That means you can expect to learn all of the features of the specific new Ford F-150, SuperDuty, Explorer, Fusion or Focus you're interested in. In the market for a used car? Our team will be happy to fill you in on each of the reliable options in our inventory. And when the time comes for you to drive home your next car, our auto finance team is standing by with solutions to fit your individual needs.
At Friendly Ford of Crosby, our commitment to excellence does not end with the sale, though. In order to ensure a positive ownership experience, we staff an onsite auto service and repair department. And for those of you who prefer to perform their own work, we also maintain a vast collection of auto parts for sale in Crosby.
Friendly Ford of Crosby truly has every one of your automotive needs covered. The only question left now is how we can best serve you. To take advantage of any one (or more) of our services, be sure to contact us today. Or, stop by and see us in person at 2425 Highway 90 Crosby, Texas today.