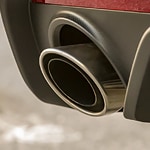 Are you looking for a car that reignites your passion for driving? We at Friendly Ford of Crosby suggest the Ford Mustang. With its exceptional performance features, this popular sports car lives up to its reputation.
When you're picking out a Mustang configuration, the powertrain is the place to start. From the 310-horsepower 2.3L EcoBoost to the 700-horsepower 5.2L V8, every model offers a heart-pounding burst of power. The V8 also goes from zero to 60 in less than four seconds, so speed is a given.
Each engine delivers the signature Ford Mustang rumble. The best part? With the different settings on the available active valve performance exhaust, you can customize the sound. In the morning, activate Quiet Start Mode to avoid waking up the neighbors. In Sport mode, the roar of the engine is sure to turn heads. Try them all during a test drive with our crew in Crosby, TX.